More Information
On this page you will find more details on various aspects of the Buccleuch Regiment; some history and some info on those key members who support or adventures.
Our Cooks
Since our first visit to Grolle in 2015 we have been supported by our fabulous team of cooks led by Sabot de Moulinville. We returned to our normal lives having been spoilt with the delicacies of their field kitchen. Indeed by 2017 we were salivating in expectation, and we were astounded by the the volume and quantity put before us, almost to the point of being incapacitated from going on the field. Come 2019, and they did the impossible, by surpassing previous years and serving up feast after feast.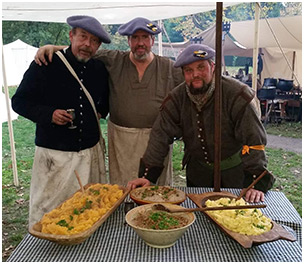 On the Saturday night we had a Scots theme presented by our cooks, see above, where we had Haggis as we have never tasted before accompanied by traditional 'neeps 'n' tatties', but somehow surpassing any burns evening.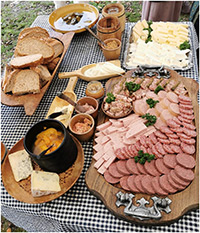 See the link below to the menu, they provided us with, they are undoubtedly our master chef's, and you would be far pushed to find better in any regimental camp in Grolle..
The 2019 menu... (MENU.PDF 7MB)
The image to the right was our breakfast...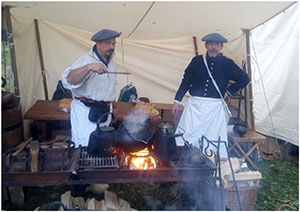 Our Photographer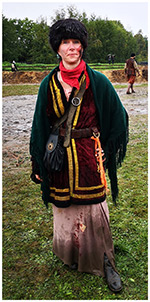 Tilly Domian is our Buccleuch's embedded photographer, happy to get involved and in amongst the action to produce superb images of Buccleuch's (and our adversaries) in action. Tilly does concert photography, re-enactment, lost places and what I encounter in everyday life so ... and sometimes even stands in front of the camera.
Our Musicians
Since our first visit to Grolle in 2015 we have been supported by fabulous muscians, not only in the form of drums and pipes whilst marching but also around our camp and indeed involved in creating entertainment in Grolle itsdelf. A big hats off to Duncan & Liz Bell, Katja Piroué, Alasdair Stuart, Mhairi Taylor and Fraser McLachlan.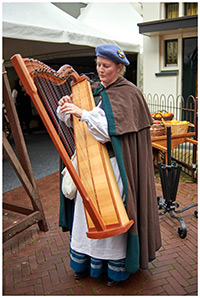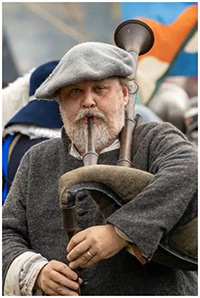 Tokens of Grolle
As an award or acknowledgement our attenndance, each regiment or group that attends the Grolle event is awarded a token. In 2017 it was a commemorative coin and in 2019 it was a replicar of the tokens allocated to the civilians of Grolle to allow them access to the city walls to observe the besieging forces.