De Slag om Grolle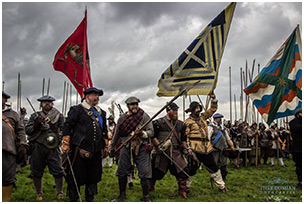 The primary objective of the Buccleuch Regiment of the Dutch Scots Brigade, as re-enactors, is to support the Grolle organisers in their effort to deliver a successful early 17th century event. We aim to do this as Scots on and off the battlefield!
Re-enactment groups come from all over Europe (and beyond!) to the Battle of Grolle. Grolle are pleased to welcome 70 groups from 16 different countries. More than 1500 re-enactors! There is always great interest in participating in the Battle of Grolle. The organization has set 1500 reenactors as a limit: they cannot invite more groups because there is simply insufficient space in, and directly around Groenlo, to locate more camps. In addition, the battlefield cannot handle a larger number of soldiers.
History of the Siege of Grolle
During the Eighty Years' War (1568-1648), the struggle of the rebellious states of the Netherlands against Spain was led successively by Willem van Oranje and his sons Maurits and Frederik Hendrik. The Achterhoek, but also large parts of Brabant, Limburg and Overijssel, were the scene of the Eighty Years' War in the second half of the 17th century. There is therefore absolutely no Golden Age here. The predominantly Catholic population of these regions was really not waiting to be "liberated" by the armies of the prince.
On July 20, 1627, the State army, under the leadership of Prince Frederik Hendrik, comes for "the strong city of Groll". An event that briefly, but very emphatically, brings the city to the center of national history.i.
The siege of the town of 'Grol' in the summer of 1627 is relived during the renactment Battle of Grolle.
Apart from the many visitors, the event was also a success for the residents of Groenlo. In almost every street there were groups of residents who worked for days to immerse the town into the seventeenth century. The event is growing steadily every two years and the organization is already looking forward to 2022, sadly our return in 2021 was curtailed by the pestilence inflicting the world.